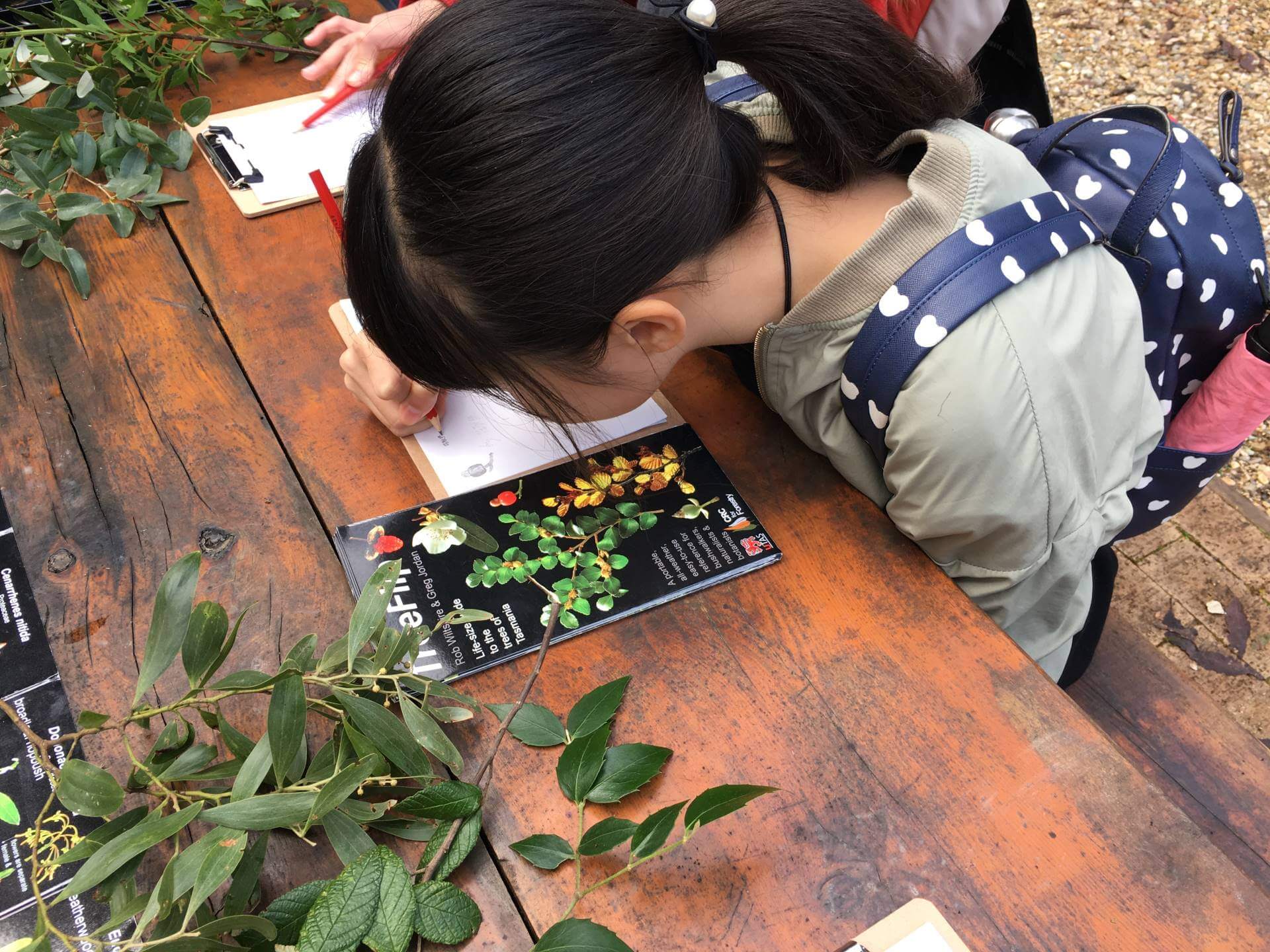 Science – Secondary Programs
Understand the importance of classification in organising food webs and ecosystems. Collect data from different forest types and explore the characteristics of a forest. Explore the ways that people interact with forest landscapes and how people manage these environments for a range of uses – from biodiversity and conservation to tourism, recreation and the sustainable supply of wood products. Investigate the role of science in maintaining biodiversity and explore significance of renewable resource for living sustainably.
Investigate the role of classification in ordering and organising the diversity of life on Earth and use and develop classification tools including dichotomous keys (AC9S7U01)
Identify the main forest types of Tasmania and the factors that influence their distribution.
Use different classfication techniques to identify key plant species found in Tasmanian forests.
Use models, including food webs, to represent matter and energy flow in ecosystems and predict the impact of changing abiotic and biotic factors on populations (AC9S7U02)
Build a complex food web, in which trophic levels are identified.
Explore the importance of biodiversity and the ways human interaction can impact on forest health.
Examine how proposed scientific responses to contemporary issues may impact on society and explore ethical, environmental, social and economic considerations (AC9S7H03)
Explore the multiple values of forests and the role science plays in informing the management of these environments.
Represent the carbon cycle and examine how key processes including combustion, photosynthesis and respiration rely on interactions between Earth's spheres (the geosphere, biosphere, hydrosphere and atmosphere) (AC9S9U03)
Explore the role forests play in global carbon cycles.
Use models of energy flow between the geosphere, biosphere, hydrosphere and atmosphere to explain patterns of global climate change (AC9S10U04)
Understand the role forests play in storing and sequestering carbon.
Explore the use of sustainable forest management as a means of addressing climate change.
Analyse the key factors that contribute to science knowledge and practices being adopted more broadly by society (AC9S10H03)
Explore how the combination of the natural and cultural diversity of the landscape are managed to maintain a balance between social, economic and environmental values.
What is the purpose of your field trip? We can develop your program to suit your learning objectives and meet your curriculum needs. Please let us know anyway we can adapt the program to suit your students' interest and learning needs.
Please notify us about any student with special needs. We can adjust your program to ensure everyone is involved.
Take advantage of our bus subsidy and fill your bus. Why not take two classes? The FEF has two teachers so taking two groups is not a problem, depending on the program.
Ensure your students are supervised at all times.
Prepare for all-weather possibility. Ensure your student have warm clothes, comfy shoes and wet weather gear.
Have fun! The forest is an amazing place. Get involved and enjoy the adventure with your students.
In order to make your excursion planning easier the FEF has developed a Risk Assessment Plan. This document is written by the qualified teachers of the FEF.
For a copy of the risk assessment document click here.
The secondary program costs vary depending on the experience provided and will be negotiated with the development of the program. An invoice will be sent to the school following your excursion. School groups using externally hired transport may apply for a $100 bus subsidy.