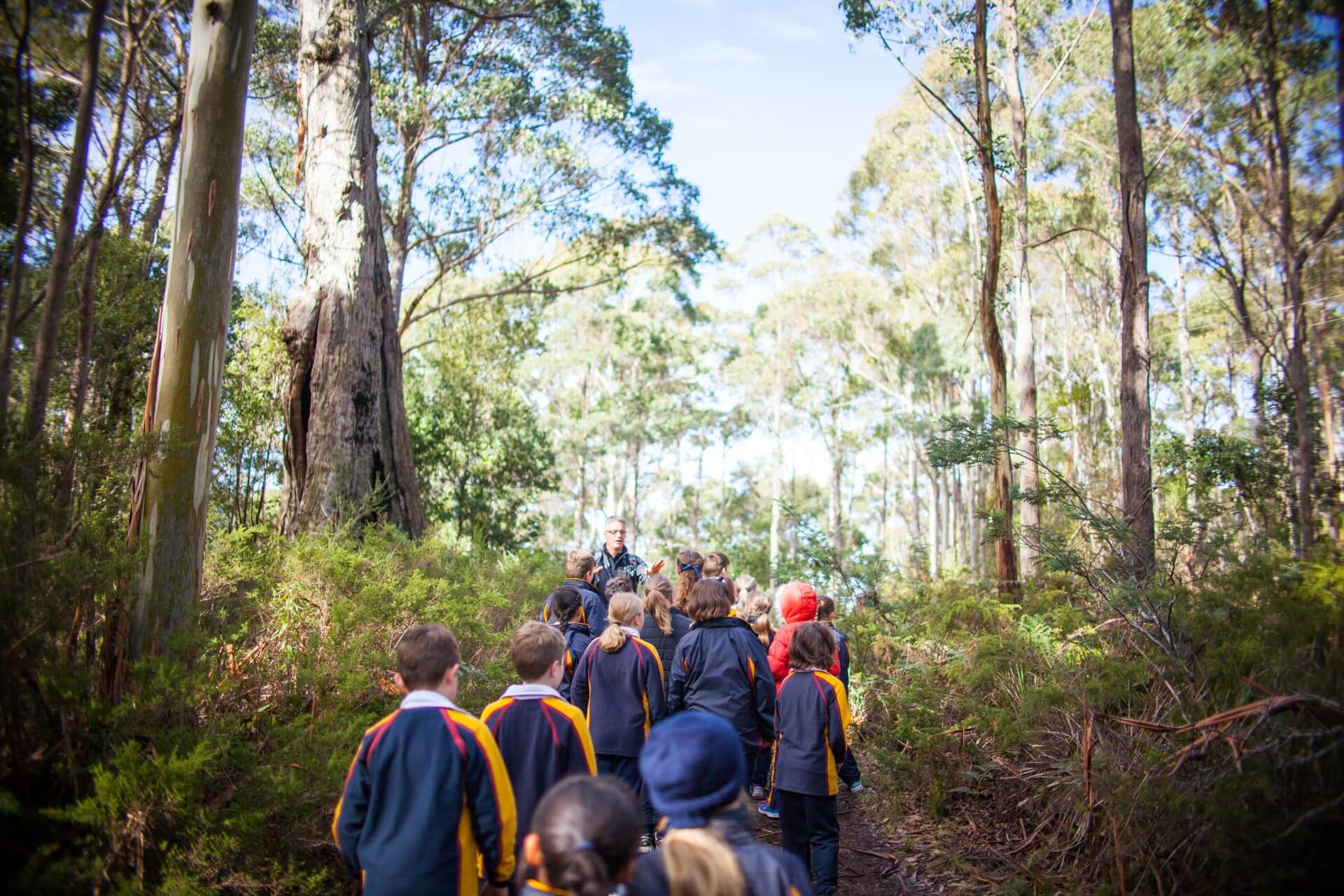 Position Available – Teacher
The Forest Education Foundation is seeking a suitably experienced teacher to review and develop teaching resources and learning programs. The position includes the delivery of education programs to school groups across a range of sites and year levels in Tasmania – Primary to Senior Secondary.
About Us
The Forest Education Foundation (FEF) is a not-for-profit educational institution staffed by qualified and experienced teachers. The FEF provides educational resources, classroom programs, field trips, as well as professional learning opportunities for teachers at a range of forest and industry sites across Tasmania. All programs connect with the Australian Curriculum, particularly in the areas of Science, Geography, Agriculture and Design and Technologies.
Our Mission Statement
Develop teacher and student knowledge about forest landscapes by providing educational opportunities that explore forest environments and the resources they provide our society, today and in the future.
About the Role
This role will support the educational goals of the FEF; to provide high quality educational experiences and resources. Working alongside a small team of teachers, you will be an integral part of developing and delivering a range of diverse programs to school groups in Tasmania. As part of this role, you will also engage with various stakeholders and build collaborative partnerships to further the FEF's key objectives.
Some of the key responsibilities include;
Working collaboratively to design and develop engaging teaching and learning resources in accordance with the Australian Curriculum.
Developing, managing and implementing special projects as required which meet the Forest Education Foundation's guiding principles and educational goals.
Implementing strategies to effectively communicate with education and industry stakeholders.
Delivering school and field-based learning programs for students ranging from Primary to Senior Secondary.
Qualifications and Experience
Teaching qualification (Primary or Secondary).
Experience in developing teaching resources and learning programs across multiple year groups and teaching settings.
About you
To be successful in this role, you will be an experienced teacher with high level of communication skills. You will have the ability to exercise initiative and apply innovative approaches to all projects. As the role is extremely diverse, you will be flexible and adaptable in order to meet the desired program objectives.
Position Details
This is a full-time fixed term position (38 hours/week) for an initial period of 1 year (0.8 of FTE negotiable). Continuation beyond this period will be subject to Forest Education Foundation performance review, project priorities and funding capacity.
The employee is entitled to take 30 days annual leave per annum. Annual leave to be taken within the 12-month period.
Remuneration will be negotiated with the successful applicant subject to qualification and experience.
How to Apply:
Before applying, please read the position description, which includes the selection criteria.
Your application should include the following:
Cover letter outlining your interest in the position.
Statement addressing all aspects of the selection criteria:
treat each criterion separately
explain how you meet the criteria, using examples to demonstrate your specific skills and knowledge
3.Your current Resume -including at least 2 professional referees
Please email applications to: dvickers@forest-education.com
For further information contact:
Darcy Vickers
Manager/Teacher
Forest Education Foundation
0417 532 058
Applications Close: November 21, 2022 at 4:00pm.