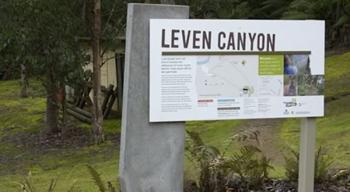 The Forest Education Foundation ventured to the north west of Tasmania earlier this term with the grade 9 students from Ulverstone High, on a first time visit to explore the forests and land use surrounding Leven Canyon. This is a dramatic spot, with the huge canyon walls providing a backdrop for wet sclerophyll forests, giving way to dry peppermint dominant forest on the cliff edges.
The students were tasked with collecting a range of biotic and abiotic data in the wet forest area, undertaking a series of activities that helped them understand how this environment developed and continues to evolve in response to natural events such as fire. They then had the chance to appreciate the canyon from the lower lookout point before tackling what was possibly the greatest challenge of the day, the climb of 697 steps up the side of the gorge to the top lookout and a spectacular view over the landscape to the Dial Ranges. Luckily, the weather was perfect and the views likewise!
The day was completed with some tree measuring after lunch and despite the aching legs of some, it was considered a good day out. If you would like to find out more about the Leven Canyon or any of the FEF programs, please get in touch at info@forest-education.com.